Framaroot apk for android is the best way to root your android devices in one click that is helping thousands of android users everyday who want to root their android devices and is popular because of its simplicity and power.
If you are unsure about what rooting means then let us help you. In every case, whether it is android, web hosting or any other similar activities, root access means access to core part of the system. It means if you gain root access to any system, you can do anything you want to do with that system.
For example, in this site, all you can do is view posts and comment on it, you cannot edit posts and delete them because you don't have root access to my server. This is similar to android, In android all you can do is install and delete ONLY the apps you downloaded from play store and view only the the data, files and folders that android allows you to. But, if you gained root access you can delete any app you want, and view hidden files and folders. Also you can install many kinds of apps that provides amazing features such as Titanium backup, link2sd, Greenify etc, which you can't install on unrooted devices.
Description:-

Name:-Framaroot.apk
Type:-  Android app (apk)
Category:- Tool
Version:- 1.9.3(latest)
Size:-1.25 MB
Total downloads:- 400,000+
Note:-Not all devices are supported. Click Here to view list of supported devices by framaroot but some devices not listed here can also be rooted.
How to root android device with Framaroot?
1.Download Framaroot v1.9.3. Click Here to download.
2. Launch it and choose Superuser or SuperSU
3. Select Boromir or another character
4. You will see this symbol :- " 🙂 "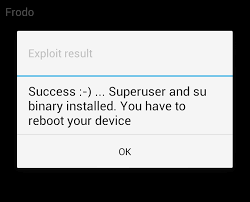 5. Reboot your android device.
6. Congratulations!!!!! Root- installed
[[But, what if your device is incompatible? Don't worry, there are many other apps for android that can root your device in one click. Here is the list of All One Click Rooting Apps for Android.]]
DOWNLOAD LINK:-

CLICK HERE to Download.