Puffin web browser is a wicked fast browser. It is the fastest browser we have ever tested.
Features:
Fastest page loading browser available on google play store:- Puffin is the fastest browser for android. If you use puffin regularly and try to use normal browser, it will feel like a torture. At least I do.
Auto clear cache files:- You can set auto clear cache files.
Multiple tabs.
Incognito or private tab:- No need to bother to clear history. Browsing on Incognito mode or tab doesn't store any history or any thing such as passwords, cache etc.
 Adobe Flash Support.:-This feature is available only for android 4.4+. Anyway no problem.
Add Ons:- Add Ons are the unique features of puffin web browser in android devices. You can install add ons as that you do in your pc in Google chrome and firefox.
Cloud download:- You can download files directly to google drive, dropbox or any other cloud storage services.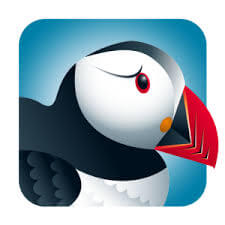 Short Info:-
Name:Puffin web browser
Updated:December 23, 2014
Size: 23M
Installs: 100,000 – 500,000
Current Version: 4.1.1.1119
Requires Android: 2.3 and up
Please remember that before downloading and installing puffin web browser in your android device, you have to enable "Installation from unknown sources" in your device's settings.
RECOMMENDED APP

:  With FreeBuzz, you can earn money by Inviting friends. Also you can share, watch and download videos.